Stand with Ukraine. Save peace in the world!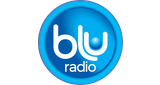 Blu Radio
Blu Radio 89.9 FM - es una cadena de radio colombiana de noticias, propiedad de Caracol Televisión que pertenece al grupo Valórem. Noticias, análisis, deportes, entretenimiento, música, tecnología y economía de Colombia y el mundo, con el mejor talento del periodismo en radio.
On the air Blu Radio
| | |
| --- | --- |
| Live | 0 ID NACIONAL FRECUENCIAS NUEVA 2022 |
| 21:06 | LA NUBE 04 MAY 31-23 |
| 20:40 | LA NUBE 02 MAY 31-23 |
Blu Radio playlist
Blu Radio reviews
Antonio Jose Diaz Lopez

12.05.2023

un hijo nunca es una carga es una bendición, soy feliz disfrutando y trabajando para ellos,si es de viajar voy con ellos a todas partes con ellos y mi esposa y me gozo esos momentos

Luis Carlos Gómez poveda

17.04.2023

Siempre con bluradio... Aquí en mi amada Venezuela por haber llegado allá petrochavez me devolví no quiero sufrir allá lo que aquí en Venezuela sufrí.. Todos los días los oigo

Tal. Ved este señor era un niño cuando nos cambiaron los sistemas de pension.

Tuio es una copia de RENTING Colombia

Que fastidio ese señor Hector, sacalo Nestor

JOSE ENRIQUE UGAS

14.10.2022

Acabo de escuchar :colombia no es Venezuela ? Hace 22 años escuché eso en Venezuela.... Alábate pollo....

Luis Fernando Ramirez Londoño

06.10.2022

Buen dia estimado equipo Blu Radio

Angel Alberto Sandoval Correa

29.09.2022

Sí señores de Blu, aunque les duela, el 31 de octubre se ha convertido en una "fiesta de culto a satanás" y apunta a la mente de los niños.

👍super

Si van a tener invitados, deberían respetar lo que intentan comunicar . Si solo buscan alguien que solo responda lo q ustedes quieren sigan invitando solo a sus amigos del gobierno y les dan un parlamento, pero no lleven a alguien para cuestionar una y otra vez por q tiene un punto de vista diferente. Q lástima q se haya perdido la objetividad del debate.