Stand with Ukraine. Save peace in the world!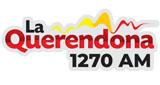 La querendona 1270 Am
Somos una emisora que origina su señal desde la ciudad de Pereira, con contenido noticioso, deportivo y musical las 24 horas del día.
La querendona 1270 Am reviews
Que impide hacer una vía en condiciones? Han pasado ya 3 Alcaldes implicados, el primero cuando se hizo el colegio sin vía optima, el segundo quien no hizo las adecuaciones y este tercero que está en funciones, que parece ser, no le alcanzará su mandato.

hola. q ha pasado q desde ayer se fue la señal por internet y no los puedo escuchar ??? le doy resetear y nada. ahi les dejo la inquietud

Andresfelipe Bonillabedoya

23.06.2022

Orgulloso de la emisora , excelente programación,gran grupo deportivo, buena información de noticias.

Excelente ser humano y excelente concejal👏👏👏👏👏camilo montoya

Yllezul Hermesa

26.05.2022

Excelente

Diego Quintero

07.05.2022

Octavio aca desde montallantas los pits en los molinos dosquebradas. Julio baena aca con el mejor. Lo molesto. Tormento rodolfo o canguil con salsa.

victoria eugenia duque giraldo

27.01.2022

Que gane Pereira desde el mall San Pablo vía armenia km 5

Patricia Castaño Rivera

12.12.2021

Descanse en paz Chente 🙏🙏

DANIELA BARRERA OSORIO

28.11.2021

Excelente música, en estos tiempos es difícil encontrar una emisora tan buena! Saludos

Jorge Ivan Triviño

22.11.2021

Saludos desde New Jersey, EE.UU.