Stand with Ukraine. Save peace in the world!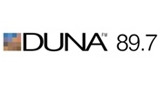 Duna
Santiago, 89.7-104.1 MHz FM
Estación de Santiago que difunde programas de actualidad y opinión, entrevistas, debates, shows en vivo, noticias nacionales, cultura, deporte, economía, los sonidos de la música clásica y vanguardistas, sucesos regionales.
Show more
Duna reviews
buena emisora

Davidean Castro

02.12.2019

Buena radio. Distinta. Debería tocas más metal si!!

Francisco Aliste

26.08.2017

Muy buena radio, vengo aqui porque a las 2:27 un musico holandes de nombre Henry, dio a conocer una cancion por este medio. Quisiera saber su apellido y de paso la cancion para poder escuchar mas de sus obras
Information about the radio
Radio Duna nació el 27 de octubre de 1995 y desde mediados de 2006 pertenece al Grupo de Radios Dial, el segundo consorcio de radios de Chile. Desde su aparición, Duna ocupa una posición de liderazgo indiscutido entre adultos mayores del segmento ABC1, con fuerte presencia en la Región Metropolitana, Valparaíso, Concepción y Puerto Montt.
Radio contacts
https://www.instagram.com/radioduna/