Støt Ukraine. Red freden i verden!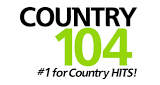 Country 104
Country 104 is what Southwestern Ontario radio listeners have been looking for! Country 104 is a family member of Canada's Leader in Country Music Network: Corus Entertainment. Country 104 has been highly researched to deliver what YOU WANT! FUN, ENGAGING, ACTIVE COUNTRY HIT RADIO!
Vis mere
Nu live Country 104
| | |
| --- | --- |
| Live | . - DEC 8 SEG 2 - Country Top 30 |
| 12:13 | . - 2023-Q4-Business Int - Execulink |
| 12:13 | . - BEST CSA GENERIC - GLOBAL NATIONAL NEWS PROMO |
Country 104 playliste
Anmeldelser af Country 104
Great Music! #1 for country music! #moretwang

Ottima compagna per il lavoro e anche per il tempo libero

right on from quebec canada

Muy ! BUENA MUSICA ! Desde Venezuela

Best radio station ever. Used to 92.7 not now

Juergen Gohlke

30.12.2018

Spitze...genau die richtige Mischung...!!!

Bambang Sutrisno

12.11.2018

ok

Roman Ustimenko

10.11.2018

OK
Oplysninger om radioen
CKDK-FM is a radio station owned by Corus Entertainment and licensed to the city of Woodstock, Ontario, Canada but primarily serves London, Ontario, Canada and transmits at 51,000 watts at 103.9 MHz on the FM dial. The station airs a country music format branded as Country 104. Until August 2008, the station primarily played classic rock; it afterward evolved to a 1960s-1980s oldies/classic hits playlist, but eventually settled into an adult hits format under the branding More 103.9. The format change to country music took place on February 28, 2014.

Although based in Woodstock, CKDK-FM primarily targets the larger London market. This station can be heard from London and Strathroy in the west, to Georgetown in the east, covering much of Southwestern Ontario, broadcasting to a potential audience of around 1.5 million people. Under the right conditions, CKDK programming can also be heard in parts of Metro Detroit.

Popular shows under the former classic rock format included McArthur in the Morning, Little Steven's Underground Garage and The Legends of Classic Rock. The station's slogan was "Playing the Greatest Rock and Roll of All Time, 103.9 The Hawk". The Legends of Classic Rock was syndicated from Q107 in Toronto, and is heard on all Corus-owned classic rock stations.
Radio kontakter