Stand with Ukraine. Save peace in the world!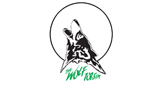 The Wolf
Peterborough, 101.5 MHz FM
101.5 The Wolf - CKWF-FM is a broadcast station from Peterborough, Ontario, Canada, playing Alternative, Classic Rock, Rock.
Show more
On the air The Wolf
| | |
| --- | --- |
| Live | . - The Kids Aren't Alright - Offspring The Offspring |
| 23:00 | . - HOST - TOP HOUR - 30 SECONDS - HOST - TOP HOUR - 30 SECONDS |
| 22:59 | . - Runnin / Unforgiven / I Sat By - THE WOLF - MUSIC MONTAGE rev |
The Wolf playlist
The Wolf reviews
#1 in the World

Love the station but I can't seem to get it in the usa. Help!?

I've just listed to 2.5 hr of zeppelin with my brother in bobcaygeon from Vancouver BC and man you guys kick it .you guys rock

Just listen to two and a half hrs of zeppelin with a bro from Vancouver on Google duo was friggin awesome keep up the great work

comment

Cameron Knights

08.12.2019

Love hard heavy rock. Wish it wouldn't cut out as frequently as it does. Awesome station

Love their music! I like having news, that is something i'm missing from a lot of internet-only stations.

all right

Colleen Hughes

09.03.2019

Awesome Music

Butch Marchinko

05.10.2018

Cannot up load to phone. On the pigeon lake
Information about the radio
CKWF-FM is a radio station in Peterborough, Ontario, Canada, broadcasting at 101.5 FM, with an active rock format branded as The Wolf 101.5. The station is owned by Corus Entertainment.
Radio contacts
Fax: +1 705-742-7708

Instagram: www.instagram.com/1015thewolf/
YouTube: www.youtube.com/user/TheWolfPeterborough