Stand with Ukraine. Save peace in the world!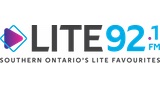 Lite 92
Southern Ontario's Lite Favourites. Playing hits from the 70's, 80's, 90's and Today.
Lite 92 reviews
Pat Lanfranchi Calver

26.11.2023

I really like the song and artist shown on the digital display!! The only problem is it's not displayed all the time. All last weekend CCR was displayed. I like your selection of music.

I actually switched to your channel to get rid of Corus company hopefully that you would not play the same songs Over and Over like they Do.I am So Sick of the same songs You guys fell into the same trap. I'm now shutting my radio off for good. I'm done, I've had it with all your radio stations. I really thought you guys were better.

Ken Wettlaufer

16.01.2022

I was hoping that Roger Ashby Oldies Show would return after Christmas I see that isn't the case so now I will tune into another radio station (e.g. 92.9) that still plays it.

Disappointed that you dropped the roger Ashby oldie show altogether. I'm sure who is not tuning in will listen other times to your station. I'm sure it's all about money. Too bad

Elizabeth MacDonald

16.11.2021

I listen to to Jewel from.arly morning into the evening

Ted Armbruster

17.10.2021

Great station but very disappointed that you are dropping the Roger Ashby show Saturday afternoon. Our schedule does not allow us to hear it on Sunday so we will miss some of the best music ever. Could you please reconsider keeping it on Saturday at 4:00 pm? We enjoy it as we prepare and eat supper. A great way to end the day.

Why are you dropping Roger Ashby on saturday afternoons? Best show ever and hearing it on Saturday and Sunday was great

Love Jewels, especially on Sunday morning. But had a terrible experience last night when Frank d'Angelo apparently declared "just tell your kids Santa is not real!". And my kid heard it... Is the guy not aware of his air time ? Didnt like him before, can't stand him now. Urgh. Why is he there again? Merry Christmas

Love your station. Great mix of tunes. On in the house and both vehicles. Only turn you off is Sunday nites when you punish us with Frank D'Angelo. Maybe you could let us know who told him he can sing.

Pam Rogozynski

27.06.2020

Best station around! So very happy this morning to hear John Biggs on the station. I've missed him since he left Tillsonburg easy hits.
Radio contacts
Office: 519.759.1000