Stand with Ukraine. Save peace in the world!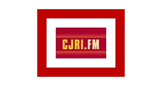 CJRI
Fredericton, 104.5 MHz FM
CJRI-FM is a Canadian radio station in Fredericton, New Brunswick, broadcasting on 104.5 MHz. The station broadcasts a gospel music format and is owned by long-time local broadcaster Ross Ingram.
Show more
CJRI reviews
Thanks! Great music, late nightclistening

THE SWEETEST SOUNDS THIS SIDE OF HEAVEN...JESUS IS THE CHRIST, THE SON OF THE LIVING GOD, AND HE HAS COME IN THE FLESH, AND HE IS COMING BACK MUCH SOONER THAN WE MAY THINK!!

Russell Crosby

15.06.2022

I have been a listener since it's inception. I listen all the time ( well, almost all the time)! This is one of the very best gospel radio stations, period. Sixteen years ago my wife of 35 years passed away. During that difficult time, for many nights, Ross's station was on all through the night and the music he was playing greatly soothed my soul. The Lord Jesus blessed me greatly during those days and used Ross to make it happen. Today I work through the days away from my house and leave the radio playing all day long and it blesses me when I step through the door in the evening. Thank you Ross.

I have known Ross and his wife Gloria since 2012 I love CJRI it is the music I love singing about our Lord and Savior I loved the Open Houses at the station I've never missed it since it was on Main Street if you want to hear Good southern gospel music CJRI is the one for you

Darlene Imough

13.02.2022

LOVE YOUR STATION !!!!!!

Rhonda Dingman

12.06.2020

Listening in from Florida here. Keep the tunes rolling and God bless all. Send one down to me in Florida Rollie - your choice. You have an idea what I like to hear, I think. Best wishes to you and your family.💗💕💗Happy Birthday Miles!

Alice Dumaresq

01.05.2020

We have been listening to your lovely station for the last year and are enjoying the hymns and songs and the teachings that are being broadcast every day of the week. We particularly enjoy songs that we can sing along with in praise to our Lord and Saviour. Thank you. God bless you greatly.

Grant McConaghy

21.03.2020

It is the music of my life.....I love it....Love my friend Barry Sullivan too!

Chantelle Marie

02.05.2019

Great music ! I enjoy listening to these awesome songs there great for praising the Lord

Like the country & older songs. Arlene, Calgary. Tented 5 nights on Cape Breton last summer.This is my favourite station now :D
Information about the radio
CJRI 104.5 serves the greater Fredericton area (NB, Canada) with Southern Gospel, Country Gospel, and Praise music, with local news, detailed weather, and extensive coverage of local events thrown into the mix. The studio is centrally located at 151 Main St. in Fredericton with a great view of the city's north side.
Radio contacts