Stand with Ukraine. Save peace in the world!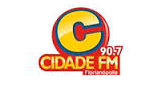 Cidade 90.7 FM
Esta é uma emissora de rádio localizada em São José, na região da grande Florianólopis, estado de Santa Catarina. A cobertura da Rádio Cidade alcança mais de 50 cidades e seus conteúdos se focam no segmento popular.
Show more
TOP songs on Cidade 90.7 FM
Cidade 90.7 FM reviews
Paulo Gerson Faria

01.09.2022

Fran, Parabéns, sou do interior de São Paulo, aprendi a te admirar pelas mensagens.
Information about the radio
A rádio Cidade FM Florianópolis apresenta uma programação moderna, dinâmica, com o humor e a inteligência que os seus ouvintes, parceiros e clientes merecem, além de criar e/ou apoiar promoções que são sempre um verdadeiro sucesso. Com uma seleção musical que reúne o melhor do sertanejo, pagode e pop romântico, é uma emissora ligada no que o público de Florianópolis e região que ouvir. Com uma completa estrutura promocional, frota de veículos e profissionais qualificados, a Rádio Cidade se notabiliza ainda mais por ser a primeira rádio em Santa Catarina a possuir um ônibus totalmente personalizado, com estúdio móvel montado, pronto para transmitir ao vivo a seu evento onde quer que ele esteja, trazendo o destaque que merece.
Radio contacts
https://www.instagram.com/radiocidadefl/