Stand with Ukraine. Save peace in the world!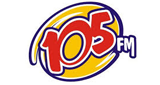 105 FM
A Rádio 105 FM é uma rádio moderna totalmente automatizada com uma programação popular 24hs. Estamos há mais de 27 anos no mercado e somos uma rádio 100% local. Possuímos a maior cobertura FM de todo o sul de Santa Catarina, atingindo ao todo 48 municípios, e 5 no Norte do Rio Grande do Sul. Com um perfil ousado e bem humorado, atraímos os ouvintes devido a nossa linguagem popular e direta. Também notabilizamos pela plástica impecável e criativa.
Show more
105 FM reviews
Nota 10 rádio top

bom D+
Information about the radio
São profissionais capacitados trabalhando dia e noite para tornar o produto cada vez mais atrativo. Tudo isso ancorado por equipamentos de ultima geração e uma forte equipe de eventos com dois veículos personalizados e infláveis de destaque. Comprove. A 105 FM é a rádio mais bem preparada para fazer com que a sua marca não saia da cabeça do seu publico consumidor. Na 105 FM, você nunca erra o alvo. Anuncie.
Radio contacts
https://www.instagram.com/105fmcriciuma/
https://www.youtube.com/channel/UC_EMyI1ZZTIJCHOuwYAF0LA