Stand with Ukraine. Save peace in the world!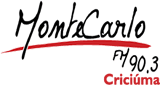 Montecarlo FM
A rádio Montecarlo FM 90.3 é uma rádio com uma programação especializada para um publico altamente qualificado e exigente. Com a mais alta tecnologia em comunicação, inovamos na região da AMREC (Associação dos Municípios da Região de Criciúma) pelo estilo e plástica impecável.
Show more
TOP songs on Montecarlo FM
Information about the radio
Nós valorizamos o bom gosto do público e apresentamos músicas qualificadas, aliadas a noticia da cidade, do Brasil e do mundo, durante todo o dia. Ao estarmos em contato justamente por esses ouvintes de grande poder aquisitivo e cultural, buscamos incessantemente oferecer qualidade, requinte, bom gosto e estilo. Ouça, experimente e venha viver um novo estilo de rádio em nossa região.
Radio contacts