Stand with Ukraine. Save peace in the world!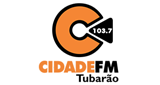 Rádio Cidade FM
A Melhor da Cidade! A rádio que sai do rádio e toma forma em eventos. Com muita música, mas que também passa informações jornalisticas durante sua programação. Em constante evolução tentando trazer tudo que há de mais atual para nossas ondas de frequência. Os hits que tocam no mundo todo, passam por aqui!
Show more
TOP songs on Rádio Cidade FM
Information about the radio
A Rádio Cidade FM de Tubarão é uma rádio moderna totalmente automatizada com uma programação pop 24hs. Estamos a mais de 11 anos no mercado e somos uma rádio 100% local, atingindo ao todo 27 municípios distintos. Com um perfil ousado e bem humorado, atraímos os ouvintes devido a nossa linguagem pop, jovem, ágil e direta. Também nos notabilizamos pela plástica impecável e criativa. São profissionais capacitados trabalhando dia e noite para tornar o produto cada vez mais atrativo. Tudo isso ancorado por equipamentos de ultima geração e uma forte equipe de eventos com veiculo personalizado. Comprove. A Cidade FM é a rádio mais bem preparada para fazer com que a sua marca não saia da cabeça do seu publico consumidor. Na Cidade FM você nunca erra o alvo. Anuncie.
Radio contacts
Email: [email protected]