Stand with Ukraine. Save peace in the world!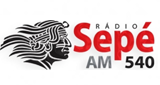 Rádio Sepé Tiaraju
Atualmente, a emissora é dirigida pelo jornalista Luiz Valdir Andres Filho. A área de abrangência da estação é de aproximadamente 300 municípios, a maioria deles localizados no Noroeste Rio-Grandense.
Rádio Sepé Tiaraju reviews
Nelson Costa Da Silva

15.08.2023

A melhor equipe da sepe de 1977 -

Adão Lago Pinto

21.05.2023

Salve, Nilson Amaral!

100%

Bruna Jagelski

08.03.2022

Parabéns pelo programa muito bom nota 100

Gostei muito do programa pare de sofrer, sempre consagro a água com pastor!

Parabens ao programa, sou Julio de Mato Grosso, mande um abraço ao meu irmão José Funke do bairro alcebiades, abraço a todos

André Zemiacki

26.09.2021

Parabéns ao Apresentador do Programa costumeiro nos domingos "Volta do Tropeiro" por resgatar a nossa música raiz, principalmente a música Bertussi.

Fladimir Jose Pauletto Pauletto

03.08.2021

Show 👍👏

miguel medeiros

22.07.2021

Jornalismo sem viés ideológico e politico. Parabéns.

Raquel de Moura

11.06.2021

Show!