Stand with Ukraine. Save peace in the world!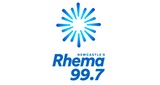 Rhema FM - 2RFM
99.7 Rhema FM is a community christian radio station based in Newcastle, Australia.Rhema FM Newcastle is a community station catering to the needs of the Christian demographic within the Newcastle and Hunter Regions of Australia.
Show more
TOP songs on Rhema FM - 2RFM
Rhema FM - 2RFM reviews
Georgina Garcia Sanchez

27.09.2023

unto the lamb

margaret Wright

25.11.2018

I can find no other avenue to use but this one. At 9.15 this morning I was very disturbed to hear the person preaching say- 'it is well known that unforgiveness causes cancer." This is very upsetting for those on the cancer journey and their friends and Families. It is our God who journeys with us. I only ask that speakers be a little more careful and sensitive with what they say over the airways.
Information about the radio
PROGRAM GUIDE:
Weekdays
EARLY MORNING
2.30 am Focus on the Family
5.30 am Leading the Way – Dr Michael Youssef
6.00 am Legacy Radio – Derek Prince
6.35 am Enjoying Everyday Life – Joyce Meyer

THE BIG BREAKFAST WITH WAYNE HINDSON:
7.45 am Jobline
8.10 am Your Health
8.15 am Reaching Your World with Luis Palau
8.40 am Bob Gass "The Word for Today"
8.45 am The Artist Spotlight Preview
9.05 am Family Life Today
9.30 am Kingdom Works with Rick Prosser

THE LONG LUNCH WITH ASHLEY DE HOOGH, KEITH DAVIES, SHAYNE HOLSTEIN: 10 AM – 2PM
11.30 am Focus on the Family
12.25 pm Bob Gass "The Word for Today"
12.45 pm Jobline
1.15 pm The Review
1.30 pm Life Points – Chuck Swindoll

DJ FREE FROM 2 – 3
THE DRIVE HOME WITH GEOFF SNOWDEN: 3.00 PM – 6.00 PM
3.30 pm Building Champions
11.20am Your Health
4.20 pm The Artist Spotlight – The Drive Home Edition
4.30 pm The Review
7.20 am The Preview
4.45 pm Jobline
5.20 pm Financially Speaking
5.45 pm Reaching Your World with Luis Palau

EVENINGS WITH JOHN MARKS: 6.00 PM – 11.00 PM
6.30 pm Adventures in Odyssey
7.20 pm Financially Speaking
7.30 pm Miromaa for Life – Christian Indigenous Radio Program, Bill Gaither's Home Coming Radio Hour – Southern Gospel Music, Cream of Christian Country with Shayne Holstein, Hymns of Praise with Keith Davies, Kingdom Works with Rick Prosser
8.30 pm Turning point with Dr David Jeremiah
9.30 pm In Touch with Dr Charles Stanley
10.00 pm Insights for Living with Chuck Swindoll
11.00 pm Prayer for Newcastle & The Hunter
11.05 pm A New Beginning with Greg Laurie

SATURDAYS
SATURDAY BREAKFAST WITH KEITH DAVIES: 6.00 AM – 9.00 AM
9.30 am ScreenTalk with Ellyse Brooks & Aaron Brown
10.00 am Today's Christian Music until 12
12.15 pm Artist Spotlight
4.00 pm History Makers
5.00 pm The Hot 25 Countdown
7.00 pm The Alternative – Youth Program
9.00 pm The Edge – Music with an edge

SUNDAYS
6.00 am Sunday Mornings with Rhema FM 'Older Style Worship'
7.30 am God's Word for God's World with Rev. Stephen Taylor
8.00 am Contemporary Adult Praise and Worship
9.00 am New Hope For Life with Pastor Colin Grigg
10.00 am Christianity Works with Berni Dymet

SUNDAY AFTERNOONS WITH KEITH DAVIES: 12.00 PM – 3.00 PM
4.00 pm Bill Gaither's Home Coming Radio Hour – Southern Gospel Music
5.00 pm Cream of Christian Country with Shayne Holstein
6.00 pm Kingdom Works with Rick Prosser
6.30 pm The Journey – Catholic Radio Program
7.30 pm Hymns of Praise with Keith Davies
8.30 pm In Touch with Dr Charles Stanley
Radio contacts
Studio Line: 1300 777 997
Text Line: 0435777997
Postal Address: PO Box 71 HRMC NSW 2310
https://www.instagram.com/rhemanewcastle/