Stand with Ukraine. Save peace in the world!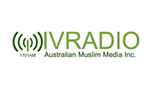 Islamic Voice Radio
Islamic voice radio Melbourne is a not for profit organization founded in 1996. It is the only Islamic radio in Melbourne and aims to serve the wider Muslim Community. It provides lectures, education, Islamic lessons and community organization 24 x 7.
Show more
Islamic Voice Radio reviews
Abdulkader ABDELLA

18.04.2023

mashaallah it is great for ramadan azzan inshalla it progresses

بارك الله فيكم وجزاكم الله خيرا

بارك الله فيكم

Love your Azaan. Accurate timings MashaaAllah

Janate Moustafa

14.04.2021

Thank u for the Athan time

Abdullahi Ali Nur

16.07.2020

God bless

Rayyan Hussein

24.05.2020

Thank you for the Amazing broadcast Mshallah during Ramadan. Eid Mubarak to all. Inshallah the radio program prospers.

Mashallah

good

Turkeyyyyyy
Information about the radio
The Islamic Voice Radio has been on air, broadcasting to the community, for the past 19 years, all thanks to Allah SWT.
This is despite stations limited financial and technical resources available to them. During these 15 years, the Islamic Voice Radio has presented a variety of pre-recorded, recorded and live Islamic programs for the purposes of informing and educating all age groups.

These programs included:1- Quran and its sciences2 -Teachings of the Hadith and its annotations;3- Teachings of jurisprudence in Islam and its provisions;4 -Teachings of the life and journey of the prophet Mohammad (PBUH) and Islamic History;5 - Islamic fatwa's from recorded lectures to live streaming with a variety of Islamic Scholars;6 - Teaching of the Quran for children;7 - Numerous other programs during the Holy month of Ramadan and Hajj.
Radio contacts
Mobile: +61 411 308 200
https://www.instagram.com/Ivradio96/