Stand with Ukraine. Save peace in the world!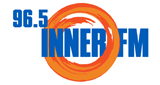 Inner FM
96.5 Inner FM is a radio station serving Melbourne's inner north-eastern suburbs.
Show more
Inner FM reviews
It's nice to swing along with GK

Kathleen Lewis

08.10.2022

Love listening to Access All Areas

Kevin Trask declares Gone With The Wind a Fabulous film but I agree with the view that. "Gone with the Wind provides a romanticized view of the South during the Civil War. Slavery is shown in a positive light and the film is sympathetic to the Confederate cause".The movie now comes with an apology of sorts that would have been good to explore by Trask.

George Wielgosz

21.07.2022

I'm also one of these people searching and accidentally came across 96.5 and I'm always tuned in.Joseph and Sandra are 2 programs that I always tune into,and there is plenty of rock n roll which I love and now have an appreciation of jazz Thanks to George.Keep up the good work.

Pat Bongiovanni

12.02.2022

Love the Program and songs played and the history of Italian music and Musicians in Melbourne.Big Thank you Pat

Abbey drake Drake

27.02.2021

I recommend 8pm until 10pm Saturday nights, awesome music ❤️❤️❤️❤

Debby Williams

21.12.2020

I gor recommended to listen to Monday 8-10pm show for the music. I loved it, great choices of fine artists. I'll be listening all the time now!

Huge fan of this station and in particular Ronnie Loats and his informative choices. Takes me back to such a positive time in our lives growing up in the 50's and 60's. Great station thanks to all the presenters.

96.5 is a great example of Community Radio. Diverse programmes, entertaining, fresh and not repetitious.

Best mix of great music in Australia.
Information about the radio
96.5 Inner FM broadcasts on a frequency of 96.5 MHz. Its main coverage area is the inner north eastern suburbs of Melbourne. Its format consists of largely of easy listening / nostalgic music, and community programs.
Radio contacts