Stand with Ukraine. Save peace in the world!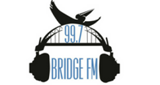 99.7 Bridge FM
Brisbane's Northern Community Broadcaster
Show more
99.7 Bridge FM reviews
Listening live from Cairns keep up the great hits!!!!

the decades and songs from those decades does delight your audience south of the river too

Move to Redcliff Qld three years ago. Haven't heard these songs for thirty years, This is it for me, Im staying for life.

Love the Radio station and all the old music 😊💜

99.7 is a Great Radio Station. Love the old Music . Keep up the good work. Cheers

Brigitte Atterton

20.04.2021

As soon as I get to work, I play Bridge FM through my PC. The office LOVES it....I have converted all my colleagues to this station - keep up the great work!

If this radio station was in Redcliffe 36yrs ago I probably wouldn't have left for Canberra...

Claire Lonergan

17.03.2021

Really love this station!

The best radio station. Thank you.

doesn't even play.
Information about the radio
Station's Vision is:
Be the voice of our community by providing a genuine listening alternative for our broadcast footprint through consistent, professionally presented radio programs;

Actively engage with our community, participate in all key community events and provide air-time to charities, community groups and other not-for-profit groups;

Identify and respond to the changing needs of our community of interest by providing access top radio services for those segments not catered for by commercial radio providers;

Maintain a sound financial position through stringent cost control; and proactive revenue generation to provide for ongoing investment, development and growth of the organisation;
Radio contacts