Stand with Ukraine. Save peace in the world!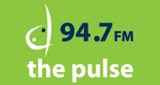 94.7 The Pulse
Geelong's community radio station 94.7 The Pulse's programming includes current affairs, news, speciality interest programs and music you love including global, blues, jazz, soul, funk, and loads of new Australian tunes.
Show more
94.7 The Pulse reviews
Community Radio...including song 'Yacakandandah' by Andy & Sal Kimber.

I wait all week to hear 'Hoges' presenting 'Country Jukebox' on Tuesday morning.

🅱️oop

LOVE THEM GEM LADIES. NUMERO UNO IN ENTERTAINING LIVE AND ON RADIO. GREAT GIRLS. CHEERS

Best community radio station out there. The wild one and the show without a name aka Friday night flip side... Top notch music!

Fantastic music especially The Wild One Radio Show, Raised on Rock Radio Show and Blue Sunday Radio Show.
Information about the radio
Geelong's premier community radio station that has been in operation for 25 years and operate from central Geelong with a small staff and a dedicated band of around 120 radio volunteers. We are involved with local businesses, community groups, schools, artists, decision makers, our local music scene, politics and special interest groups all of who help us provide unique and interesting content you wont hear anywhere else.

Each week 94.7 The Pulse broadcasts over 70 programs in more than 15 languages reflecting our diverse community. Community radio exists to serve people in the community whose needs are not being met by the commercial or national sectors of broadcasting. We offer an alternative to mainstream radio.

While primarily designed to serve Geelong, the Surf Coast and the Bellarine Peninsula, station's studios are in Geelong, the service area of the station extends to Lorne, the outskirts of Colac, the outskirts of Ballarat, Werribee and anywhere in between.
They also broadcast via live streaming online, so people from all over Australia and the world can tune in to 94.7 The Pulse.

94.7 The Pulse began as 3YYR (or You Yangs Radio). The idea of a community radio in Geelong was initiated at a public meeting held in November 1984. Interested Geelong citizens formed a committee to gain support from the Geelong community and to gather the technical and administrative expertise to lobby the government for its support and to meet the requirements for a licence application.

After several test broadcasts and further lobbying, 3YYR commenced full time broadcasting on May 1, 1988. The name 3YYR was changed to Geelong Radio in 1996. Up until 2001 Geelong Radio broadcast on the frequency 100.3FM, but as part of the federal government's national frequency re-arrangement plan, was forced to leave this frequency in June 2001. The station made the decision to move to the higher transmitter power and a new frequency of 94.7 FM and to change its name to 94.7 The Pulse.

In 2004, The Pulse saw an opportunity to partner with Diversitat. With its focus on supporting the multicultural communities and the disadvantaged in the region, Diversitat is a natural fit for 947 The Pulse as we are THE VOICE OF OUR DIVERSE COMMUNITY. Diversitat and 94.7 the Pulse now provide Geelong, the Surf Coast and Bellarine regions with broadcasts in over 15 languages.

The Pulse also provides support to the following programs delivered by Diversitat Youth in The Pulse building:
Reconnect is for young people 15 to 24 year old, did not complete Year 12 or equivalent, not currently studying, not in full-time employment OR 20 to 24 year old, Year 12 Graduates, Unemployed for more than 12 months, Under-employed (part-time/casual) for more than 12 months.
Xpress & SWEET Programs (VCAL) Builds Literacy and Numeracy skills in a hands-on approach to learning. They have a clear focus on getting students ready for the workforce and further education pathways.
Young Parents Program (VCAL) Supports young mums and dads into education prior to and after having a baby. Classes are focused on Literacy, Numeracy, personal development and parenting and life skills.
Diversitat welcomes 250 refugees per year into Geelong and The Pulse assists Diversitat with radio programs and community notices in their native language.

In 2018, station will celebrate 30 years of broadcasting. This is a significant achievement in community broadcasting.
Radio contacts
PO Box 1276, Geelong VIC 3220
Fax: (03) 5229 6504