Stand with Ukraine. Save peace in the world!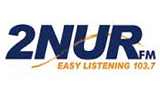 2NURFM
Playing your easy listening favourites. 2NURFM is a diverse radio station broadcasting to a wide range of listeners. We have specialised ethnic programmes during evenings, lifestyle programmes throughout the week and offer our listeners a great selection of music from the 50s to the 90s.
Show more
Information about the radio
The University of Newcastle is known for cutting-edge research and innovative teaching. We are located two hours north of Sydney, on Australia's beautiful east coast.A diverse radio station broadcasting easy listening music from the 50s to today, as well specialised ethnic, music and lifestyle programs throughout the week.
2NURFM is a community radio station that began broadcasting in March 1978 and has become Newcastle's leading 'Easy Listening' radio station with a format structured around familiar hit songs by legendary stars like The Eagles, Faith Hill, Air Supply, Van Morrison, Neil Diamond, The Beatles, Dionne Warwick, and some more recent legends like Michael Bublé and Dianna Krall.
Radio contacts