Stand with Ukraine. Save peace in the world!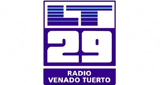 LT29 Radio Venado Tuerto
Venado Tuerto, 1460 kHz AM
Estación radial con origen en Argentina que brinda espacios noticiosos con los hechos que acontecen en el país, la actualidad global y entretenimiento con la mejor música del pop latino sonando las 24 horas.
Show more
LT29 Radio Venado Tuerto reviews
Juan Carlos Zapata

16.08.2022

ESCUCHANDO LT29 DESDE VILLA DE LA QUEBRADA SAN LUIS Y EXTRAÑANDO A MI QUERIDO VENADO

El Instituto de Educación Superior N° 7 acompaña a su compañera de trabajo y colega María Laura Giubergia en este difícil momento por el fallecimiento de su marido José Luis Bosi. Toda la comunidad educativa envía sus condolencias.

Virginia Farfan

06.08.2019

Buen dia sres. Muy hermosa la radio queria decirles que en el dia de ayer extravie una llave de mi vehiculo le pido por favor al que halla encontrado la acerque a esta misma emisora desde ya muchas gracias. Saludos.

Hoy jornada liviana en casa así que puedo trabajar escuchando a Leticia y Eduardooooo, Saludos, excelente mañana.

Jeremias Raies

25.01.2019

Radio como esta San gregorio ?

Leonardo Barzola

22.03.2018

QUIERO SAVER SI PASA EL CAMION DE LA BASURA!??????

muy buena la musica .. saludos desde monte hermoso .......
Information about the radio
Lunes a viernes:

06:00 Revista Agropecuaria
07:00 A Pesar de Todo
09:00 En El Aire
12:00 Mediodía
13:00 El Club de la Buena Onda
14:00 Antes que Nada
16:00 Ramos Generales
18:00 Nunca es Tarde
20:00 La Mejor Música


Sábados:

07:00 Mirada Agropecuaria
08:00 El Gran Encuentro
09:00 El Sábado te Cuento
12:00 Autodeporte en el Recuerdo
13:00 Sentí Argentina
15:00 Utopías Producciones
17:00 Tradicionalísimo
19:00 Viajero Frecuente


Domingo:

07:00 Folklore y Tango
08:00 Viajero Frecuente
10:00 Un Día de Domingo
13:00 Utopías Producciones
14:00 Autodeporte en el Recuerdo
13:30 La Mejor Música
Radio contacts