Stand with Ukraine. Save peace in the world!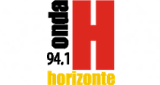 Onda Horizonte
Estación que transmite desde Santa Fe, Argentina, con una programación contemporánea que cubre las 24 horas del día, música de géneros actuales como electrónica, pop, rock y éxitos de siempre, además de información variada.
Show more
Onda Horizonte reviews
Alcemar Rodrigues padilha

24.05.2023

mui buena emissora gracias por sonidos em brazil .

Cristina Deless

24.06.2021

excelente música y companía!!!

La mejor!!!.

Peter Transfer Vallecitos

19.07.2020

Muy buena programación y excelente musica.

alejandro retamoso

07.03.2020

Gran emisora excelente programación desde Santa Fe capital

Horacio Ruben Almada

21.09.2019

Excelente. Feliz Cumpleaño!!!!!!!
Information about the radio
Es una de las emisoras en Frecuencia Modulada pionera en la región. Transmite desde la ciudad de Santa Fe, en 94.1 Mhz, durante las 24 horas del día, con una programación absolutamente pensada cumpliendo con las normas formativas e informativas que la audiencia demanda.
​
Técnicamente posee una potencia instalada de 2 Kw., que le asegura un área primaria de cobertura de 90 Km abarcando la zona metropolitana (Santa Fe, Santo Tomé, Paraná, Paraná Campaña) y distintas ciudades y localidades de las provincias de Santa Fe y Entre Ríos, lo que nos permite estimar en 1.000.000 los potenciales oyentes. Generación de audio digital y procesado de alta calidad, le aseguran una perfecta emisión al aire que permiten distinguirla fácilmente en el dial.
​
Nuestra programación, eminentemente musical, comprende hits y clásicos internacionales, con tramos informativos en horarios específicos que priorizan las noticias locales, contando también con el aporte de cadenas nacionales e internacionales, tanto vía satélite como por Internet. Además, a través de un acuerdo celebrado con RFI Radio Francia Internacional, contamos con servicios noticiosos en español y música francófona exclusiva. Todos estos elementos que conforman nuestra transmisión, ensamblados en perfecta armonía permiten prolongados períodos de escucha sin provocar cambio de sintonía.
​
Nuestra audiencia cuyas edades varían entre los 18 y 50 años, posee un alto perfil de consumo, encontrándose en los niveles socioeconómicos ABC1 Y C1.
Radio contacts