Stand with Ukraine. Save peace in the world!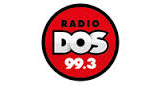 Radio Dos
La emisora con musica variada, noticias, deportes, información y show on line.
Radio Dos reviews
Melina Ramirez

23.06.2023

Nicolas el más lindo,por vos me descargue la radio

holaa como andan

Jose Luis Garcia

31.08.2020

A QUIEN CORRESPONDA SOY GARCIA VGM DEL RI 4 DE MONTE CASEROS CTES !!!!! ME GUSTARIA SAVER QUE INFORMACION O DESTINO TUVO LOS 8 MILLONES DE PESOS QUE ERA PARA EL VIAJA A MALVINAS 2020///// YA QUE EL SEÑOR JOSE GALVAN NO RESPONDE NI HA SACADO UN COMUNICADO .... DESDE YA MUCHAS GRACIAS

omar consiglio

02.06.2020

Muy buena día a día felicitaciones a todo el equipo

Veronica Benitez

15.04.2020

buenos días el hospital llano están vacunando el anti gripal

Graciela Stivanello

30.03.2020

Buenos dias. pregunte por la leche?que subio mucho el precio

buen dia mi gente saludos para todos desde perico Jujuy

Me gustaría saber si mañana ahí o no paró de colectivo

quiero saber si se levanto el paro para mañana martes

sergio alvarez

10.02.2019

Para cuando el segundo puente sr. Vignolo? Y con el aumento de tarifas. Porque no se invierte en infraestructura del dpec. No podemos estar 24 hs sin luz. Los alimentos se echan a perder. Eso es claramente falta de inversiones!!!!