Stand with Ukraine. Save peace in the world!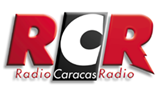 RCR 750 AM
Emisora pionera de la radiodifusión venezolana que transmite desde Caracas para el público nacional y ahora también online, con una parrilla llena de noticias de interés general, espacios de opinión, información y deportes.
RCR 750 AM reviews
Pedro German Valdez Perdomo

17.04.2022

Patético el Programa "La esquina caliente" se ve muy claro que el señor solo LEE un papel que le colocan al frente. Mi Respetos al Sr Damaso Blanco pero las cosas tienen que actualizarse. Pónganse al DÍA, soy de Acarigua y todavia mencionan a Radio Acarigua AM que desapareció HACE AAAAÑOS. NO tengo nada contra el espacio, solo les sugiero que se actualicen. GRACIAS y Disculpen si ofendí a alguien.

Pedro Aranguren

26.11.2021

Lo maximo en actualidaf

Martha Leticia Gonzalez

27.08.2021

Un canal de información necesario ! Oportuno Gracias

Belinda Villanueva

02.08.2021

Buenos dias , lee muy mal las noticiasssss

Argenis Antonio Pérez

04.06.2021

Que pasa con la Emisora UNION RADIO FM, alguien puede decir algo?

Tomas Enrique Padovany Rodriguez

08.05.2021

Dile NO a las INVASIONES, por parte de los delicuentes

Jose Angel Briceño

28.04.2021

MUY BUENA LA ENTREVISTA!!!!!

excelente entrevista.

Nelson Barreto

31.10.2020

Buena Música Edgard. Mi saludo cordial. Primera vez sintonizando tu programa. Es Nelson, el primo del difunto Xiomar, desde La Florida, Caracas (El Negro).

Alcides Daniel Tovar Rodriguez

08.09.2020

Soy consecuente oyente, de toda la programación , y me parece muy interesante, tya que me mantengo informado, sobre la situación, política y económica del pais.. para todos un abrazo cordial.... Alcides Daniel Tovar R. desde Carora mcpio Torres Estado Lara.