Stand with Ukraine. Save peace in the world!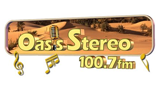 Oasis Stereo
La Victoria, 100.7 MHz FM
Radio de éxitos musicales Venezolana, que transmite una programación dirigida a un público joven adulto contemporáneo con la buena música del presente y pasado, en diferentes estilos e idiomas
Oasis Stereo reviews
Agustin Hernandez

29.09.2023

¡Bienvenid@s al Oasis de la Radio! Gracias por tu sintonía.

GENTE DE PINGA HACIENDO BUENA RADIO ,,EXITO A TODOS .DEL CARAJO .. COOOL

Dannoris Romero

19.09.2022

Full sintonía con la radio me complacería con dame tu WhatsApp de willysantosmusic

Esta emisora es del Carajo. burda de de pinga de corazon a corazon.. Saludos

calidad de emisora un saludo atodos los compatriota que estan fuera de venezuela

Yulennys Zapata

03.08.2022

Hola buen día espero estén bien gracias por excelente programa de radio , para saludos en su cumpleaños a ni amada madre Esther en guacamaya de parte de su hija la Nena desde Buenos Aires q le envio muchos abrazos y besos Dios la siga bendiciendo...y gracias de antemano.

Hola buenos días, le doy gracias a Dios y este medio maravilloso....que mantiene en sintonía a la hermosa Ciudad de la Victoria Dios los Bendiga... para poder llegar a mi familia, en especial a mi mami Esther María Aguiar, mi papito Cosme Sánchez y mis hermanas-o. Los amo, los extraño.....Saludos a mis tíos, tías, primos y amigos se les recuerda un mundo que este día y los que vienen sean de Bendiciones....mini

eugenio ivan gallardo lafferte

02.05.2021

DESDE ANTOFAGASTA CHILE DONDE NACE EL DESIERTO MAS ARIDO DEL MUNDO ""ATACAMA"" RECIBAN UN CORDIAL Y FRATERNAL SALUDOS UN EXCELENTE PROGRAMA EN LA CONDUCCION DEL PRESTIGIOSO COLEGA AGUSTIN HERNANDEZ CON SU VOZ ROMANTICA..Y APROVECHO DE SALUDAR A TODOS LOS OYENTES QUE DIARIAMENTE ESCUCHAN OASIS STEREO .LES SALUDA EUGENIO GALLARDO Y FAMILIA FELICIDADES Y EXITOS

Andreina Silva

28.04.2021

Un cordial saludo desde colombia me encanta este programa me transporta hasta el calor de mi casa me trae muchos recuerdos bonitos.

Johandry Mieryteran

26.04.2021

De corazon a corazon solo para dos ...mi favorita..