Stand with Ukraine. Save peace in the world!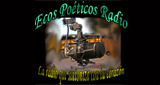 Ecos Poéticos Radio
Somos una sencilla emisora de radio que con 34 locutoras y locutores de todo el mundo, presenta 36 programas semanales de un mínimmo de 2 horas de duración. Donde podras encontrar, cultura,literatura, historia, biografía, eventos retrasmitidos en directo, ya sea en video como en audio, y, sobre todo, poesía, mucha poesía. Organizamos eventos a nivel mundial y ayudamos a que otros tengan la resonancia que se merecen. Síguenos y disfruta. Gracias!!
TOP songs on Ecos Poéticos Radio
Ecos Poéticos Radio reviews
Sidnei Piedade

29.11.2023

Em sintonia, abraço e sucesso, Sidnei Piedade Pais_Brasil

فجر المدينة ناجح أحمد

16.10.2023

Un locutor maravilloso y un poeta increíble. Que siempre estés bien y que sigas apoyando a las personas creativas del mundo.

Pamela Cecilia Ulloa Gómez

13.10.2023

Hola los felicito por su excelente radio que une a varios países y personas de quienes escribimos y compartimos agradable poesía,es un agrado poder escucharlos les envío un cariñoso abrazo y saludos desde mi querido Chile hasta él agradable país de México.🇨🇱🇮🇹💖✍

Antonio Garcia

24.07.2023

ecuanimidad, ritmica belleza, poema y música; grande hacen este programa. Gracias

Cesar Cesar de Jesus

23.07.2023

Aquí disfrutando del tequila del romance, ahogando las penas con la creación poética de todas y todos los hermanos latinoamericanos

No puedo conectarme. 😔😔

Oscar Gonzalez Parra

25.06.2023

No encuentro el chat para poder comunicarme con ustedes

Olivia Paredes

14.03.2023

Magnifica idea, porque la radio tiene el poder de ingresar en todos los ambientes sin incomodarse. Además es muy satisfactorio para el autor, escuchar su texto poético en voces especializadas. felicitaciones!

Fran Dominguez

04.02.2023

El la mejor radio buenas música buenos programa culturales, vinos programa poéticos ,teatrales y la mejor compañía la de esta familia que formamos ecos poético radió

Miguel Ángel Salazar Cabrera

20.01.2023

Ecos Poéticos Radio es el escaparate más grande del mundo de la cultura escrita, al difundir a poetas y escritores de todo el mundo.