Stand with Ukraine. Save peace in the world!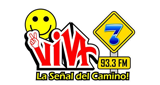 Viva 93.3 FM
La Primera fm popular del edo cojedes transmite 24/7/365 e-mail: vvviva93.3fm
Viva 93.3 FM reviews
Buenos días amigos el número de teléfono de Julio el que tiene el programa en la mañana saludos

Laura Quintana

13.01.2023

Buenos días feliz días a todos los venezolanos

venezuela al control 2015

01.01.2023

ACTIVOS DESDE LIMA! PROXIMAMENTE ME VOY A MI TINAQUILLOOOOOOO!

johnny villegas

01.01.2023

Saludos desde iquique-chile para toda mi famila allá en CAÑO DE INDIO,de parte de el negro,hijo de eloy Villegas

luiszangy betsabeth hurtado salina

22.12.2022

bendiciones saludos desde chile para mi tinaquillo amado

Luis Alberto Martínez

03.06.2022

Es inaceptable que en esta emisora se utilice el espectro radioeléctrico, concesión del estado venezolano, que tiene como objetivo la difusión de nuestra cultura, de nuestro acervo musical; para entretener y educar que lo hagan para promover géneros foráneos como el reaggetón en horario todo usuario con letras y contenidos sexualmente explícitos en los cuales se denigra de la dignidad de la mujer vista como un objeto sexual, para la lujuria. Hoy abriendo el programa se escuchó ( antes de la guaracha el "traka-traka" 10 a.m.) un reaggeton con una letra que dice mas o menos asi: "contigo en la cama/ la cara que pone/ cuando ella acaba/ hace que todos/ te enamoraran". Señores, respetamos el gusto y la debilidad del conductor del programa por el reaggetón, pero considero que es un irrespeto a la audiencia, un asalto al pudor y a la salud mental de los niños que a esa hora escuchan radio, la transmisión de esos contenidos. Y pregunto ¿Dónde está la responsabilidad social de la emisora? Conatel no multaría o cerraría la emisora por ser propiedad de un gobernador opositor, sino por los desafueros que se hacen desde la cabina.

Para saludar a la flia Nuñez Diaz en la av camoruco . Feliz año nuevo 2022.

frederick Mendoza

01.01.2022

para saludar a la familia aparicio en juan ignacio mendez te quiero mucho mama rosa y pastor de parte de tu hija yuli

Buenas noches Saludos desde Cabimas edo Zulia

Saludos desde Chile AL Zurdo Rafael Alvarado, mi amigos de tertulias basqueteras y ciclistas. Clipers Campeones!