Stand with Ukraine. Save peace in the world!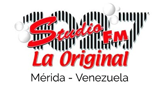 Studio 102.7 fm
Studio 102.7 FM, se transmite en vivo desde Mérida, Venezuela. Su programación está compuesta por segmentos deportivos, noticias y buena música. Te invitamos a escuchar esta y las demás emisoras que se transmiten desde Mérida para todo el país.
Studio 102.7 fm reviews
La número 1

Jose Giordanelli

05.07.2023

Excelente música, voz muy seductora de la locutora. 20/20 puntos

Aurora Carrero

13.01.2023

BUenos programas. Me gustan los románticos de Oswaldo rondón recuerdos y rancheras .rancheras 102 salsa durazno y siga la fiesta.

se susupenden las clases hoy

xioalex andreina altuve hernandez

05.09.2022

Saludos a Eloy y Andrés en Mérida San Juan de parte de su niña Xioa viendo el partido desde Cali... Los amo !! Vamos Akd

Saludos desde arauquita Departamento de Arauca Colombia... Un gran saludo a todos

Florymar Escalona

04.06.2022

Excelente

Carlos Carrillo

22.03.2022

Buenas noches saludos desde Santiago de chile un saludo para mi familia en la rancheria

Ramon Alexis Vielma Urbina

27.02.2022

Saludos le escucho desde Santiago de Chile y así aprovechar de saludar a la familia Vielma Urbina saludos a la Vielmera

corrosion acero

15.01.2022

los escucho desde anaco estado anzoategui excelente programacion un saludo a mi merida querida......