Apoya a Ucrania. Salva la paz en el mundo!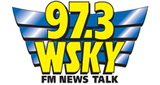 The Sky 97.3 FM
The Sky 97.3 - WSKY-FM is a broadcast radio station in Gainesville, Florida, United States, providing News and Talk shows.
Su opinión sobre The Sky 97.3 FM
Jim-Bo Cummings

12.10.2023

Bring Back .......

I live in Paisley and this is the only way I can listen as the station is too weak for the radio

I live in Altoona fl. and listen to you guy everyday on the internet

Your station replace Ben Shapiro for some Milk Toast Putz!

Dana is the best radio host because she doesn't sugar coat nothing

Bob Rose is the best low-key analyst( and his On-Air sidekick too) I have heard . WMAL in DC has a similar talent but Rose has them beat hands down. Dana Loesch is the BOMB--the best ever and if Elvin H would listen to her ( she is a woman -- is that your issue little El ??) Vern in Summerfield daily listener ALL day !!

Patricia Storm

15.06.2022

What happened to the Rock the Red rally, was it a scam?

Please, please, please get rid of The Dana Show. I've been listening to the SKY ever since you came on the air. I listen to The Bob Rose Show, Hannity and Levin but I turn off The Dana Show every day because she is the worst host ever.

No reception Dunnellen area for several weeks

Reception in Ocala area has been bad all week.