Stand with Ukraine. Save peace in the world!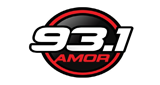 93.1 Amour
The official name of 93.1 Amor is WPAT-FM. It is a U.S.-based Spanish-speaking FM radio station licensed to Paterson, New Jersey and covering New York City area. It is available on 93.1 MHz FM frequencies, on HD radio and online via their live stream.
Show more
On the air 93.1 Amour
| | |
| --- | --- |
| Live | MARIA BECERRA - MARIA BECERRA CORAZON VACIO 102 152000 |
| 03:13 | 93.1 AMOR - 93.1 AMOR TODOS LOS CLASICOS DRY SW1 2500 |
| 03:10 | MALUMA - MALUMA CORAZON 102 151900 |
93.1 Amour playlist
93.1 Amour reviews
Luis A Miralles

04.03.2023

98% musica de Roemo Santos - NO0 HAY OTROS CANTANTES ????

Roland Rodriguez

10.11.2022

Buen día. -El se equivocó- de Gloria Trevi ya salió???

Una pregunta ya salió Gloria Trevi 🌟

John Vintimilla

17.02.2022

93.1 Amor should be ashamed of themselves for dropping the Spanish AC format. WQBU-FM was purchased by Family Radio, and NYC once again has ZERO Spanish AC radio stations! Follow me on Twitter & Instagram if you all want a Spanish AC radio to return to NYC.

Jaime Blanco Pineda

05.11.2021

Viaje a ccolombia y lo único que traje fue a 93.1 la tengo en el corazón sigo leyéndola todo los días. Corrijo. Oyendola

Nereida Benitez

02.09.2021

great music

fire

Alfredo said this morning that he feels like Santa Claus is coming because he feels as if Biden will win. LMAOAAOAO...... be careful the Grinch does not steal Christmas...... I want to hear him when this happens.... lol this station is too liberal. They do not allow anyone else's opinion and beliefs. Not every Hispanic is a Democrat. Please allow others to choose who they want. It is a free country. Other than that the station is great.

Can you guys try to play some mexican music because 92.7 stopped doing that and there is no Mexican radio stations in nyc. Please try once?

Me encanta
Information about the radio
WPAT-FM was launched in 1948. It changed its owners several times until it was finally purchased by the Spanish Broadcasting System (one of the largest owners of radio stations in the United States). For many years the playlist of WPAT-FM contained mostly instrumental music. But at some point this format started losing popularity so they had to switch to adult contemporary format. Until 1996 it broadcasted in English, but since 1996 WPAT-FM speaks only Spanish. This radio station also changed its name several times. When they started speaking Spanish they called themselves Suave 93.1 (which means Smooth 93.1), then this radio station was renamed into Amor 93.1 (Love 93.1). Since 2002 they call themselves 93.1 Amor.

Listen to 93.1 Amor online at our website or download our free app to access the live stream of this radio station from your mobile device.
Radio contacts