Stand with Ukraine. Save peace in the world!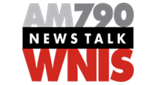 WNIS
AM 790 News Talk - WNIS is a broadcast Radio station from Norfolk, Virginia, United States, News, Talk, Sports and Information programs.
WNIS reviews
Gerald Marquardt

22.05.2023

Mike and Kerry need to replace the big mouth Tony

I agree with "Deese"; I miss Ken Hamblin, the Black Avenger!

This station leaves a bad taste in my mouth. They attack people and are bad at hosting. Without attacking and criticizing people they don't know how to give actual news. I'm a conservative but this station just brings out nastiness in the way they talk about the left. Get off the Radio please.

BOSS "BOB" is a JackA$$! [Kerry & Mike are almost 5 stars!]

Mike and Kerry and Hannity are my favs. I do wish the station had some diversity though, Larry Elder would be good in the lineup. Black conservatives are rare but there has to be some that could be on a national radio show in this market.

William Gillis

08.12.2021

Shout out to Tyler Casey for his professional delivery and admirable ability to weather Tony's innumerable indiscretions and interruptions!!! You rock Tyler! Keep up the great format WNIS (especially Mike and Terry)

Thomas Donnelly

17.11.2021

Best station on the AM dial

Look forward to Tony Macrini in the morning drive and get so involved I often turn it on in the office. His history lessons are great!!

David Robinson

03.11.2021

Kerry and Mike have to go...I actually had to turn them, wnis, off. Cannot take the Trump bashing from them. Trump started this Conservative movement and as much as I like Youngkin...he is a moderate Republican, not a Conservative, and he is definitely not smarter or better leader than Trump. I guess Kerry and Mike are moderate Republicans, not true Conservatives...they just don't get it...

Buddy Pritchard

25.03.2021

Terry & Mike show is awesome !