Stand with Ukraine. Save peace in the world!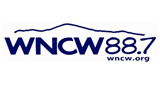 WNCW 88.7 FM
WNCW (88.7 FM) is a non-commercial public radio station licensed to Isothermal Community College in Spindale, North Carolina, with a varied format including folk, blues, jazz, reggae, celtic, world, rock, bluegrass, indie and news.
Show more
WNCW 88.7 FM reviews
I absolutely love this radio station! I found it while traveling through western North Carolina on vacation.

Best radio station and music in the world...I used to live in NC and listen to WNCW when I could get in FM radio range. Now I stream it as I travel around the world.

Michelle Guseman

17.11.2021

New to WNC. Found this station and I'm in love!! Absolutely fabulous!!

McKenzie Creech

06.11.2021

you should put Christmas music on 88.7

Incredible!

Bridgit McCarthy

18.10.2020

Oh snap! So eclectic and wonderful!

Best damn radio station on the planet!

Foglikely Farm

09.08.2020

have listened to this great station since the beginning and contributed sporadically. I am frustrated at the moment because I have not been able to access the broadcast on Alexa for the past two months. do I need to subscribe to Tune-in live Premium or what? I see that other folks around the country have the same problem with some other stations. please help.

Michael Messel

26.06.2020

simply beautiful

Love that I can now listen on line
Information about the radio
Folks say, "If you don't like what's playing, turn down the volume for five minutes and try again." WNCW offers an eclectic mix of Folk, Americana, Rock, Bluegrass, Reggae, and more. Some call it "Roots" music but most just call it good music.

It is the mission of WNCW to advance the broadest educational goals of Isothermal Community College through the operation of a full service, professional public radio service that encourages its audience to pursue a quest for lifelong learning.
Radio contacts
Studio/Requests: 828-287-8080 or [email protected]