Stand with Ukraine. Save peace in the world!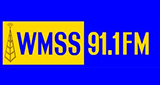 WMSS
WMSS is the student-run radio station for the Middletown Area School District. In addition to it's music programming, WMSS also provides award-winning coverage of local high school sporting events, and Lebanon Valley College football and basketball.
Show more
Information about the radio
WMSS was founded in 1977 by Feaser Middle School teachers John Cooper and Jeff Johnston. In October 1978, WMSS 91.1FM went on the air as a 10 watt radio station in Middletown, PA.

The station has expanded over the years. Today, it's located at the Middletown Area Middle School and operates as a 475 watt radio station in Central PA.

John Cooper served as General Manager until 1992. Original student member John Wilsbach, now a local broadcaster, took over as GM in 1992 and continues to operate the station today. Former student members Brian Keyser is now the Faculty Advisor, Tim Starliper is the chief Engineer, Steve Leedy is the Sports Director and Dan Magaro is the Production Manager. The station also receives assistance from former longtime faculty advisor Maureen Denis.

The station is owned by the Middletown Area School District. Funding is provided by the school district, interested businesses, and organizations.

It operates as a non-commercial, non-profit broadcast station for the Middletown and surrounding community area. The station is on the air 6am-9pm daily.

Students grades 7-12 from the Middletown Area School District are involved. The station also airs various sporting events, public service shows, and church services.
Radio contacts