Stand with Ukraine. Save peace in the world!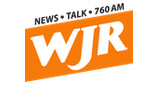 News/Talk - WJR
WJR is a talk/news radio station in the United States. It is licensed to Detroit, Michigan, serves Metro Detroit, Southeast Michigan and parts of Northern Ohio. It broadcasts on 760 kHz AM frequencies and that is why it is sometimes also called 760 WJR. This radio station is owned by Cumulus Media (the second largest owner and operator of AM and FM radio stations in the United States).
Show more
News/Talk - WJR reviews
you two guys...are you simple. these people are not doing a good job. do your homework!

Glad to see you now carry Fox News. CNN really sucked.

Always fresh, but not always right - that's all about news. Btw - guys are doing good job!
Information about the radio
760 WJR is the largest radio station in Michigan. It is also the strongest radio station in Michigan (with its Class A clear channel). It means that it has the maximum transmission power for commercial AM stations and on good weather conditions it can be received far outside Michigan.

It focuses exclusively on news, talk and sports and broadcasts local programming as well as national ones. 760 WJR is affiliated with Westwood One, Premiere Radio Networks, Detroit Lions Radio Network and Michigan State Spartans Sports Network.

Listen to 760 WJR online via the live stream on our website or download and install our free app to access this radio station on your smartphone or tablet.
Radio contacts