Stand with Ukraine. Save peace in the world!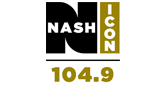 104.9 Nash Icon - WKOS FM
104.9 Nash Icon (WKOS) - is a radio station serving the Tri-Cities, TN (Johnson City-Bristol-Kingsport), area with country music.
Show more
104.9 Nash Icon - WKOS FM reviews
Why am I having trouble listening on my phone? It keeps saying playback error? I have you in my car, my home, and always on my phone! The best radio station around!!!
Information about the radio
Nash Icon is a new format playing the best Country hits from Country music's most iconic artists, driven by Country music fans' desire for more exposure to their all-time favorite artists from 1980 through today. 104.9 NASH Icon features artists from Reba McEntire, Rascal Flatts and the Dixie Chicks to Garth Brooks, Alan Jackson, Martina McBride and Kenny Chesney.
Radio contacts
P. O. Box 8668 Gray, TN 37615 US