Stand with Ukraine. Save peace in the world!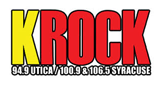 K-Rock - WKLL 94.9 FM
WKLL, WKRL-FM, and WKRH are a series of radio stations owned by Galaxy Communications. The FM stations, broadcasting at 94.9 MHz, 100.9 MHz, and 106.5 MHz respectively, are all branded as "K-Rock" and run an active rock format. The stations are licensed to Frankfort (Utica-Rome area), Syracuse, and Fair Haven, New York (serving the Oswego-Fulton area) respectively.
K-Rock - WKLL 94.9 FM reviews
Frederick Dunlavey

15.03.2023

I like krock don't get me wrong but the one complaint that I have is if your supposed too be a modern rock station than why do u put buffalo bills football on the air in August and Utica comets hockey on too so why have wtlb your am sister station a sports channel why not just air buffalo bills football on ESPN radio and do the same thing with the Utica comets just saying and please bring rainman back on the air

been a Krock fan for ever

Gianfranco Uccheddu

25.06.2021

Ottima musica. Complimenti

jacques bekker

03.04.2021

all the way from south africa awesome radio

As someone born and raised in England, it's so hard to keep up with my beloved Vancouver Canucks and Utica Comets and the station offers great coverage for the Comets, whose games are almost impossible to watch live on this side of the Atlantic! Great work guys, keep it up!

the best

K-Rock - WKLL 94,9 FM > THE BEST FM....i''m a filipino i liked the music you played....southern part of mindanao...Tandag Surigao Del Sur.Philippines.

Love K-Rock listening still here in The Great State of Massachusetts back to The Great State Of New York.

SNSMIX on Friday at 10 is the best! Listening in GA

RevXavier -- Indianapolis, IN