Stand with Ukraine. Save peace in the world!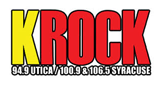 K-Rock
WKLL, WKRL-FM, and WKRH are a series of radio stations owned by Galaxy Communications. The FM stations, broadcasting at 94.9 MHz, 100.9 MHz, and 106.5 MHz respectively, are all branded as "K-Rock" and run an active rock format. The stations are licensed to Frankfort (Utica-Rome area), Syracuse, and Fair Haven, New York (serving the Oswego-Fulton area) respectively.
K-Rock reviews
Frederick Dunlavey

20.08.2023

I always liked krock I like especially listening too the show with Josh and cody.i wish I could work for the show cause they seem like a bunch of cool guys too work for I used too work in radio as a promotions guy and would do anything to get my foot back in the door of a radio station.

Vanessa Chavez

02.08.2023

I won concert tickets that I was told would be mailed to me...I waited and waited and Waited but they never came...I have emailed, called and left messages only to not get a call back...When I won them they didn't have the tickets yet they were gonna be mailed....Today is Mudvayne and I'm pretty fucking sure that's the concert I won to...Idk I am disappointed as it is my first time out of Fla living in NY and already my bad luck has followed me

Alfred Rainbow

13.03.2023

I don't know what's going on, but this station does NOT broadcast at all recently probably 90% of the time. Can someone look into this?

Absolutely incredible music. No station plays so many good songs one after another.

Barbie Harke Phinney

21.03.2022

OMG I love K-Rock!! I die laughing in the morning pulling into work! mostly because all their stories are so Crazy funny and so relatable with either myself or a sibling or Friend!! Great morning show.. " I too have a fear of my Hot Water Tank!! LMAO! and Im still laughing about "I will not be taken down by a Cat" Thanks for the laughs boys!!

Best radio station by far. I've been listening since the 90s.

Krock is one of the best radio stations and they play good songs

Krock plays good song

ahoy-hoy

best radio station in the whole world!!!!!!!