Soutenez l'Ukraine. Sauvez la paix dans le monde!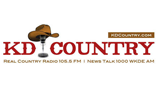 KD Country
This is Real Country. KD Country plays all your Classic Country favorites along with new music, bluegrass, gospel music on Sunday mornings and award-winning coverage of high-school sports.
KD Country avis
I have been listening online for the last two hours and I must say that Ashley Blake is a wonderful radio personality and KD Country is now my favorite C&W station.

I had been looking for a Radio station that played the country music that I was raised up with, and I ran up on this station. Thank you! I listen to you every day in my car and I downloaded you to my phone. Keep playing them great classic country.

cameil TRIJALOOUN

27.11.2021

I like P'Country, listen to the broadcasting station every day, I listen to you in Thailand. ILove KD Country

Thanks,for playing my kind of the best music,105.5

Jordan Pippin's grandfather loves being able to hear the game on KD Country in Ithaca, New York! Thanks for broadcasting.

Great Country Music selection and Excellent High School Sports Game coverage by Kyle!

The only station that's as awesome today as it was when I first heard it 40 plus years ago. It's no better now than it was back in the day, but you don't mess with perfection! Go Sugar Daddy. Lol

From Quebec city Canada I love KD Country ,your music for me his TOP 1. Gilles Febvet

Александр Сапрыкин

20.08.2019

Cool radio!