Stand with Ukraine. Save peace in the world!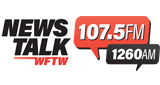 NewsTalk 1260 AM
WFTW 1260 AM - NewsTalk 1260 is a radio station serving the Fort Walton Beach, Florida area with a news/talk radio format. This station broadcasts on AM frequency 1260 kHz and is under ownership of Cumulus Media.
NewsTalk 1260 AM reviews
This is the only way I can get a radio station with the stations I like. I love News Talk and listen in my car. At home not of the stations come through, so I use your site. Thanks for providing the subjects I like.

GGator Country

30.11.2021

Awesome! When you get tired of all the Gaslighting news outlets, just tune into NewsTalk

Alberto De Armas

29.01.2021

I am just listening to Raul Martinez now and his comments.... He should talk a little bid more about the destruction of our democracy and the first ammendment of the Constitution by the new Administration and thje Socialist media. I came from Cuba for the same reason this people are trying to do to this Country! This Country has been so good because of this values they try to eliminate. Also, people like Martinez are trying to silence all the Republicans and painting them as evil persons. About 75 million people can NOT be evil!!

Christopher Edward Heatherly

28.01.2021

Fantastic station. It's great to get the conservative view all day long.

giggidy

Charles Litavic

28.05.2019

Great talk Radio. Thanks.hey Pam.. go back to npr... I am sure that's where you belong.

Richard Hallin

17.01.2019

To Pams' review: I'd say that the show lineup should account for 95% of the grading criteria - what's the specific beef. . . too many "go to the forest/feed the pig" public service announcements?? My only minor beef is that you have the CNN news feed at the top of the hour. VERY much appreciate the new inclusions of Ben and Dana - also glad that you dumped Savage for Hannity - I realize you have to be "full of yourself" to be in that line of work, but that guy is nauseatingly narcissistic. Great station!

this is the worst radio station I have ever listened to without a doubt! Unfortunately they now have a good show lineup so it is very frustrating to try to put up with the station's amateur performance.

Wide variety of conservative talk.