Stand with Ukraine. Save peace in the world!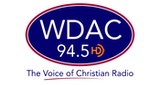 The Voice 94.5 FM - WDAC
The Voice - WDAC is a broadcast radio station from Lancaster, PA, United States, providing Christian Religious music and talk programs.
The Voice 94.5 FM - WDAC reviews
I am not getting the station online…I also call your number and the system is not working HELP

Pamela Wissman

17.11.2020

I thank God for WDAC. I rely on your stations for the great teaching I can listen to. It is life changing.

Christopher Nissley

16.10.2020

I cannot believe that I heard a political ad on your station for the corrupt abortion candidate Joe Biden.This is really disturbing on many levels. I am a long time listener and am very disappointed in this station. Know your audience.

I'm a long time listen and the station has been a blessing. Until you started airing campaign ads for a staunch pro-abortion advocate, You sold out your ministry for money. Shame on you.

Joseph Madagan

18.04.2020

WDAC is a welcome new resource in my walk with Jesus Christ! The station's programming approach, format, and style provide a refreshing return to how I remember radio being in my younger days!

Wonderful programming and beautiful music to stay Christ focused 24 hours a day. Thank you WDAC ! Sam, Madison, Indiana.

GREAT Programming for kid old and young,and 55 year olds who likes it to!