Stand with Ukraine. Save peace in the world!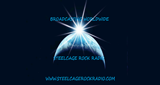 SteelCage Rock Radio
SteelCage Rock Radio is an online radio station from Homestead, FL, United States providing Rock music
Show more
TOP songs on SteelCage Rock Radio
SteelCage Rock Radio reviews
Information about the radio
7 years ago, SteelCage Rock Radio began internet radio life with the first broadcast of "The Classic RockFest", then known as "StarChild's Classic RockFest", as some still call it today. These days, both the station and the show enjoy an audience of thousands worldwide who enjoy commercial-free internet rock radio, uncensored! The host, DJ StarChild, who is also station manager, plays a potent mixture of classic rock, which includes pop-oriented radio friendly rock, progressive rock, arena rock, blues rock, southern rock, hard rock and heavy metal from the late 60s to early 90s and beyond; and current rock from classic artists, as well as new artists with a classic vibe in their sound. In other words, he gives exposure to the very music terrestrial radio stations refuse to play. In between song sets, you will hear uncensored standup and skit comedy, and after each 4 hour long show, he includes a Classic Album of the Week, played in its entirety, with The RockFest Summer Concert Series replacing the Classic Album from Memorial Day to Labor Day. Classic rock-oriented programming continues into the wee hours with The Eddie Trunk Podcast, and Classic Rock Revisited's "The Rock Brigade" Podcast with Jeb Wright, James Rozell, and, occasionally, Gwen The Rocker Chick! As the tagline goes... "all for YOU...and ONLY on SteelCage Rock Radio!"
Radio contacts