Stand with Ukraine. Save peace in the world!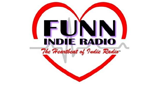 FUNN Radio
Our mission is to bring attention to all the great Indie artists who are trying to get their music heard! With our 24/7 stream, and the syndicated shows that we feature weekly broadcasting throughout the nation and the world thru our website, we feel that we are achieving that mission.
FUNN Radio reviews
THANKS JOSH! YOU ROCK! I sure do appreciate ya.

el bounkari said

17.02.2022

great music,,,great station

A L Y S S A R U F F I N

18.07.2021

I absolutely love this station, the music and Josh is simply amazing! I appreciate everything y'all do for us indie artists! 5 stars!!

Taylor Carroll

21.01.2021

Love this station and everything it does for indie artists around the world!

Love the support you guys give to the local musicians. Their art is just as good or better than the "big names". Thanks also for the Women's power hour. It's fun and a joy to listen to.

Karin Dydowicz

20.04.2020

I have it for Jerry lee Willis

One of my personal favorites this Jerry Lee.:-D :-D

Love that you take on indie or new artist... Keep on! Greetings from Sweden!

Michael Penley

16.01.2020

Great stuff!

Great music...