Stand with Ukraine. Save peace in the world!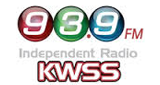 KWSS 93.9 FM
KWSS Radio offers an alternative choice of music local and programing not often found in mainstream terrestrial radio to the public. The station also offers a medium for local music, events, charities, concerts and public service announcements. KWSS is an FM broadcast station licensed to Scottsdale Arizona serving the Phoenix metro area operating on a frequency of 93.9 MHZ FM.
TOP songs on KWSS 93.9 FM
KWSS 93.9 FM reviews
Edwin TheyThem (R0DENT)

03.03.2023

I really enjoy this radio station! Just discovered it last week!! So good! I love that you can discover new and old, small and big artists! I really love this station! If you take recommendations I really recommend: Lovejoy, Lemon demon, will wood, and the chats! Soo good! Stay groovy!

This station is my absolute favorite. Always been a fan on alternative/Indie material and KWSS plays them. They play a such a variety of songs, and even bands I've never heard of but are really amazing. Some of the bands I've discovered from KWSS of such bands are Wolf Alice, Grimes, and Mike Oldfield.

I moved here recently from the DC metro area which has some excellent stations, but KWSS is the best station I have ever listened to. I travel often and purposely listen to local radio and KWSS has been the best I have come across. I appreciate the eclectic mix and have referred to the play list on the website for several songs I had not heard and have added to my iPod. Keep up the great work!

With iHeart other media giants taking over radio stations, it seems like every station has a catalog of 50 songs that they play over and over (and over and over). It doesn't matter what format - rock, country, or whatever. How refreshing to listen to a station that plays everything from songs that i forgot about from the '80s and '90s to new alternative groups that I've never heard of (and probably wouldn't have if i hadn't found KWSS). Keep doing what your doing and I'll continue listening from home in Minnesota!🤘

good songs!

todas las noches la musica ideal! saludos desde yucatan

love the Friday night mixes!
Radio contacts
https://www.instagram.com/kwss_radio/