Stand with Ukraine. Save peace in the world!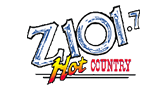 Z 101.7
KGOZ broadcasts a country music format to north central Missouri. KGOZ airs North Central Missouri College sports, including women's and men's basketball Region 16 games and selected baseball and softball games, in addition to selected high school sporting events, including being the home of Trenton High School football.
Z 101.7 reviews
i like rap and take your clothing off woman

Sierra Mccormack

27.03.2017

Best country music station!