Stand with Ukraine. Save peace in the world!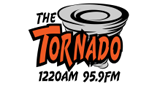 KDDR - The Tornado 1220 AM/95.9 FM
"The Tornado" KDDR-AM 1220/95.9 FM is YOUR source for the goings on in the Oakes, Dickey County, and Southeastern North Dakota area. Jason Metko, simply known as "Metko" is the on-air guru, broadcasting in the mornings with "Metko in the Morning" from 7 to 11 a.m. Paul McDonald, or "PMac" is on from 11-2, and "The Doctor", Dana Drevecky graces the airways from 2-5 p.m.
KDDR - The Tornado 1220 AM/95.9 FM reviews