Stand with Ukraine. Save peace in the world!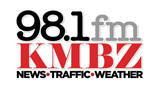 KMBZ-FM
KMBZ is a set of broadcast radio stations in Kansas City, Kansas, United States, providing News, Sports and Talk shows on KMBZ 980 AM and KMBZ-FM 98.1 FM.
KMBZ-FM reviews
Kmbz

Charles Toynbee

26.05.2023

You all played a segment on the illegal gate removal at Tanglewood Lakes and stayed that you had spoken with the alpaca people and they were to have said something (this

Brain dead talk show hosts that just repeat DNC talking points. During the pandemic they pushed the vaccine hard; literally guilt tripping people to take something that has since been proven to not worked as advertised and in some cases caused injury. They told you to do it for the immunocompromised and more than implied listeners were bad people if they didn't take the vaccine. To my knowledge they have never apologized for that. Even when they aren't spewing medical misinformation the content is just boring.

William Splivens

16.12.2022

Shallow minded on air personalities that repeat rhe CNN/MSNBC talking points. I realize they are likely communication majors, but their grasp on politics and current events is very child-like and naive.

Machinegun Shellie

06.11.2022

Nice to have some talk radio that's not dominated by Christian Nationalist terrorists. If you're turned off by far right radio, this station is a decent choice to stick with the real world. I think the 1 star reviews speak well for this station—talk radio for normal people.

Is there a zero?you liberal fucking idiots need to get a clue! Why not try to be actual journalists and not Rat bastard hacks. My lord you all suck

left-wing bigots

Catherine Hosea

05.04.2022

Corruption and millions dollars stolen and gamble off covered up. I uncovered biggest scandal of world I call it Robert Lee scandal.

Music is not bad but unfortunately I listened to the DJs during the news time and let me tell you, they're pretty disturbing they display disgusting behavior.. I honestly wish I would've never listen to it. Needlessly to say, I will never listen to the station again🤯

Would be better in not for that thin skinned little weasel Scott Parks.