Stand with Ukraine. Save peace in the world!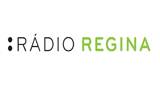 Rádio Regina Západ
Rádio Regina, druhý rozhlasový okruh RTVS, tvoria tri regionálne štúdiá - okrem Bratislavy aj Banská Bystrica a Košice. Štúdiá mapujú udalosti, predstavujú osobnosti, históriu aj súčasnosť jednotlivých prislúchajúcich regiónov. 12 hodín denne vysielajú jednotlivé štúdiá pre svoj región samostatne, zvyšok vysielania je spoločný. Poslucháči v ňom nájdu správy, reportáže, diskusné relácie a magazíny, ale aj hudobné programy, fíčre, rozprávky a hry. Hovorené slovo tvorí takmer polovicu vysielania, hudobne sa Regina orientuje na populárnu, ľudovú a dychovú hudbu, menšinové žánre, či vážnu hudbu.
Show more
Rádio Regina Západ reviews
Information about the radio
V autonómnom vysielaní bratislavského štúdia Rádia Regina dominujú v pracovných dňoch relácie kontaktného charakteru s poslucháčmi. Je to Rádiobudík (5:05 – 8:00 hod.), Predpoludnie s Rádiom Regina (9:05 – 12:00 hod.) a Popoludnie s Rádiom Regina (13:05 – 17.00 hod.). V reláciách si poslucháči nájdu aktuálne informácie o dianí v obciach a mestách Bratislavského, Trnavského, Nitrianskeho a Trenčianskeho kraja, ale vo vysielaní sa striedajú aj príspevky občianskej publicistiky, poradenstvo, vzdelávanie i osveta.
Radio contacts