Stand with Ukraine. Save peace in the world!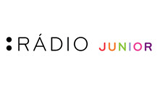 RTVS R Junior
Slovenský rozhlas 9 je digitálna programová služba Slovenského rozhlasu adresovaná najmladším poslucháčom.
Show more
Information about the radio
Rádio Junior vysiela 24 hodín denne, sedem dní v týždni. Program je rozdelený na päť dvojhodinových blokov, z ktorých každý má dramaturgicky odlišnú tému. Bloky sa reprízujú každých desať hodín a pravidelne sa obmieňajú.
Dramaturgia Rádia Junior je zameraná na rozprávkové hry, monologické rozprávky, dobrodružné hry, detskú literatúru, programy o hudbe a pesničky pre deti.
Radio contacts