Stand with Ukraine. Save peace in the world!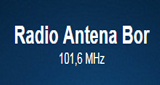 Radio Antena Bor
Radio Antena Bor emituje program na 101.6 MHz i preko interneta. Programska koncepcija je zasnovana na odabranoj narodnoj i zabavnoj muzici, aktuelnim informacijama, malim oglasima i reklamama.
Radio Antena Bor reviews
Jel moze pozdrav za oraca Boku [djombu)

Danilo Marković

15.12.2020

Glavno da Deki pusta za kozijacane😡😡😡😡😡😡😡

Vojislava Stojanovic

03.10.2020

Zasto se poste svake pese iskljucuje

Grkovic Borisav

02.10.2020

Jel moze dva druga

Dobar da dali moze pesma zena od sultana

Srecan vaskrs porodici nistor i svim prijateljima zeli porodica zigic ako moze pesma maro marice i saban kliker od stakla

samo za mog brata marcela iz vladimirovca.moze li pesma slavimo slavimo ovaj divan dan.
Radio contacts
Marketing telefon: 063-19-04-660
Time in Bor: ,