Stand with Ukraine. Save peace in the world!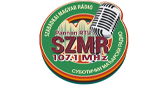 Szabadkai Magyar Rádió
A 2015 november elsején elindult, közszolgálati jellegű Szabadkai Magyar Rádió célja a vajdasági emberek teljes körű tájékoztatása, hogy részletesen beszámoljon a Vajdaság egész területén történt eseményekről, bemutassa az itt élő emberek által megvalósított értékeket, szóljon a szerbiai, a magyarországi, a kárpát-medencei és az európai uniós témákról, és emellett, hogy folyamatosan fejlődjön.
Show more
Szabadkai Magyar Rádió reviews
Angela Milunovic

15.07.2023

Szoval.... Szo nelkul vagyok. A zene fantasztikus. Angela vagyok, Nagy Fenyrol. A Juliat szeretnem hallani. Sok puszi

Újra fiatalnak érzem magamat...

Mária Körmendi

01.10.2022

Ez a mai müsor! Fifi - fiatalságom legszebb élményei. Gyula újságíró tanácsai a mai napig ott vannak a cikkeimben.

Brigitta Berta

06.08.2022

Szia Manno. Remélem megérkezik az üzenetem. Kérném az Indián nyárt. Brigitta. Aki már nincs Szabadkán.

Monika Sarnyai

22.01.2022

Szuper jó!!

Laszlo Komaromi

15.01.2022

Kedves Manó kérném Ossiántól Ha téged látlak! Györgyinek Szerelmemnek Laci.

Janosne Miklos

03.10.2021

Szuper jó a műsor! Gratulálok!!

Annamária Boda

19.07.2021

Hódmezővásárhelyről hallgatlak benneteket

Antal Seprenji

14.07.2021

Nagyon jo! Londonba Halgatom !!

Egyszerüen felül mulhatatlan!!! Etöl a radioadotol jobb nincs!!!
Information about the radio
A napi 14 órás műsorban szólunk politikai-, szociális témákról, heti rendszerességgel egy-egy órás műsorunk van egészségügyről, oktatásról, környezetvédelemről, sportról, napi egy órában pedig művelődésről. Szakemberekkel, intézményvezetőkkel, egyszerű emberekkel beszélgetünk a stúdióban, illetve terepen. A Rádiót arról is gyorsan beazonosítják a hallgatók, hogy szinte 90 százalékban magyar nyelvű zeneszámokat sugárzunk. Népszerűek emellett különböző zenei stílusú műsoraink is, melyek esténként, 18 és 20 óra között hallhatóak. A műsorban óránként elhangzó hírösszefoglalókat a Pannon Rádiótól vesszük át.
Radio contacts