Stand with Ukraine. Save peace in the world!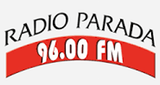 Radio Parada
Prywatna stacja radiowa, grająca zarówno standardy muzyczne z lat 60.,70.,80. i 90., jak i najnowsze hity światowych list przebojów. Bardzo ważne miejsce w ramówce naszego radia zajmuje publicystyka, edukacja i poradnictwo.
Show more
Radio Parada reviews
Jerzy Krawczyk

09.06.2021

super

Elbieta Wawrzonek

25.10.2020

Super gracie zwłaszcza w niedziele super radio

Ale burdel dyskusyjny --gratuluję kultury dyskusyjnej

Pozdrawiam z disburga

Kochani aż się chce Was słuchać .Dzięki za super program muzyczny ,groch z kapustą ale o to chodzi,dobra muzyka ,no i wiadomości głownie z Łodzi..Pozdrawiam z gorących Włoch całą załogę Radia Parada

Bez zmian, wciąż moje ulubione radio. Duży plus za to, że nie jest ukierunkowane w jedną stronę tylko na prawdę każdy może znaleźć coś dla siebie.

Wiktoria Podębska

06.05.2019

Super radio i super humor na antenie! Bardzo lubię słuchać też wywiadów z gośćmi. Z państwem nie ma nudy!

Gabryiela Jabłońska

08.04.2019

Moje ulubione radio. Nigdy nie interesowałam się polityką, ale przyznam szczerze, że i mnie zaciekawili. Dobrze jest jednak wiedzieć co tam się dzieje w naszej Łodzi.

Joanna Walczak

04.04.2019

Nie zgodzę się. Moim zdaniem audycje nie są nastawione na jedną partię. Wszyscy uczestnicy wypowiadali swoje poglądy i zdania. Ogółem całe to radio jest moim zdaniem jednym z lepszych. Przyjemnie się słucha. Nie jestem zbyt "polityczna", ale takie audycje nawet mnie zaciekawiły.

czemu audycja ta ktorej teraz słócha jest partyjna czemu pan z pisu ma wiecaj czasu antenowego niz inne ugupowania wcina sie w wypowiedzi innych i pani redaktor nie jest a polityczna
Information about the radio
Radio Parada – prywatna stacja radiowa z Łodzi. Nadaje całodobowo na częstotliwości 96,0 MHz z nadajnika umieszczonego na kominie Zakładów Włókien Chemicznych Chemitex Anilana przy alei Piłsudskiego 141 w Łodzi.

Obecnie jest to spółka z o.o. o nazwie: Radio Parada, której zadaniem jest nadawanie audycji radiowych o zasięgu ogólnołódzkim. Siedziba znajduje się w Łodzi przy al. Piłsudskiego 141. Prezesem radia jest Ewa Kubasiewicz.
Partnerem Radia Parada jest Informacyjna Agencja Radiowa (IAR). Od początku istnienia stacji bardzo ważne miejsce w jej ofercie programowej zajmuje publicystyka. Istotne miejsce w ramówce zajmuje także edukacja i poradnictwo.

Jeśli chodzi o muzykę, Radio Parada prezentuje zarówno klasyczne standardy muzyki rozrywkowej lat 60. 70. 80. i 90. XX wieku jak i najnowsze przeboje światowych list przebojów (codzienna Lista Hot Top 20).
Radio contacts
Time in Łódź: ,