Stand with Ukraine. Save peace in the world!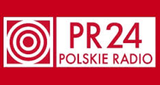 Polskie Radio - 24
To radio internetowe utworzone przez Informacyjna Agencję Radiową. Program obejmuje serwisy informacyjne, wywiady i dyskusje z zaproszonymi gośćmi oraz autorskie audycje i magazyny przygotowane przez pracowników IAR oraz korespondentów zagranicznych.
Polskie Radio - 24 reviews
Malgorzata Nasilowska

20.09.2023

Odleciał to p. Protasiewicz !

radio ogólnie dobre , ale do doskonałości dużo niestety brakuje , więcej krótkich informacji z kraju i ze świata by się przydało

Dobre merytoryczne RADIO24.Redaktorzy cierpliwie słuchają zaproszonych gości i im nie przerywają mimo niektórych kuriozalnych komentarzy w przeciwieństwie do stacji pro-opozycyjnych.Chapeau bas.Troll POmylił radia,to nie tokfm,tam idź dymić do Putina.Panie Andrzeju Radio-24 ma w nazwie Polska i odstaje od mediów polskojęzycznych Axel Ringera.

Andrzej Grodnicki

31.08.2023

Pan Skowron i Pani Złotnicka zapraszają do rozmów "dziwnych" komentatorów .Komentują na okrągło, tak żeby mówiąc nic nie powiedzieć.

Janina Kowalska

21.08.2023

Redaktor. ma. głos, którego chce się. słuchać

Radosław Ściekorski 😅😂🤣 dobre

Ryszard Warszawski

18.07.2023

Skrajnie nie doinformowana stacja np. ten prowadzacy nazywa najemników z grupy Wagnera mordercami? dlaczego tego nie powie o MOSAD o Black Waters, to tez najemnicy?.a polscy zólnierze w Afganistanie co nie najemnicy?.prowadzacy prosze obejrzyj inne narracje ,bo ja wole zeby przy granicy z Polska byla armia Putina niz Banderowcy

Feliks Machlarz

15.06.2023

Szczesc BOZE temu radio na wieki!!!!!A Polska bedzie wtedy Polska.Nie zastąpiona rozgłośnia w promowaniu i kultywowaniu patriotyzmu.

Coś się ostatnio popsuło. Nastawiam PR-24 a słyszę chyba Radio Maryja. Też tak macie? Tak na marginesie, nadgorliwość, podobno, jest gorsza od faszyzmu.

Teresa Włodarczyk

03.06.2023

Wspaniałe radio i wspaniali dziennikarze .Jedyny minus to brak redaktora Trzmiela .